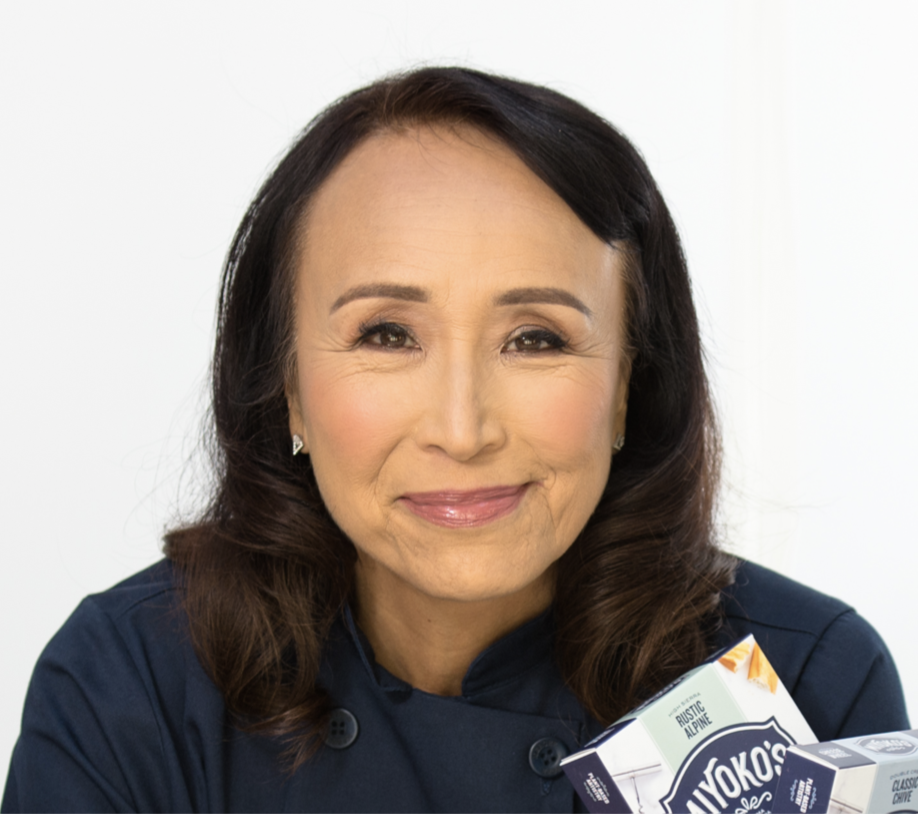 Founder and CEO of Miyoko's
Founder and CEO of Miyoko's, Miyoko Schinner, sparked the rise of the multi-million dollar plant-based cheese revolution by engineering a proprietary technology for making dairy from plants. Earning the title "the Queen of vegan cheese," the bestselling author, chef, and entrepreneur has dedicated 30+ years to affecting social change and sustainability through veganism and activism. Inspiring the general public through her 5 cookbooks, including the groundbreaking best-seller Artisan Vegan Cheeseand The Homemade Vegan Pantry—the Art of Making Your Own Staples, Schinner recognized that there was a clear demand for delicious dairy products made from plants. In response, she launched Miyoko's in 2014 and set out to redefine the categories of "cheese" and "butter" with complex flavors that have garnered multiple awards and the attention of The New York Times,Forbes, Food and Wine, and Good Morning America.
Schinner's passion for animal activism also led her to co-found Rancho Compasión, a farmed animal sanctuary in Nicasio, California that is home to over 70 farm animals. Schinner begins each day by feeding her herd of cows, goats, pigs, sheep, turkeys, chickens, and ducks; which she considers her daily mediation. She resides with her husband and has 3 grown children, 2 dogs, and 2 cats.
Tuesday, October 1, 2019
8-9:00 a.m.
MORNING GENERAL SESSION: BRAIN FOOD
As the CGA Strategic Conference continues to explore the disruptive changes occurring within our industry, we also need to consider the innovative approaches being developed both inside and outside the traditional grocery sector. This session is designed to challenge your thinking about established practices and inspire you to formulate new ideas on connectivity and collaboration with your business partners.
Robotics and automation, direct-to-consumer digital brands, micro omnichannel partnerships and societal movements surrounding sustainability and the latest food ideals, all present new avenues of competition, but also opportunities for traditional retailers. How should brands and retailers lean-in to these disruptions to build a sustainable business where new approaches are demanded and ever-evolving?
This thought-provoking, TED-style session will capture the spirit of three uncommon voices to challenge your thinking about our industry and where things are headed. Their presentations will highlight novel approaches and provide new context which will influence your thinking and spur dialogue during your conference business meetings.